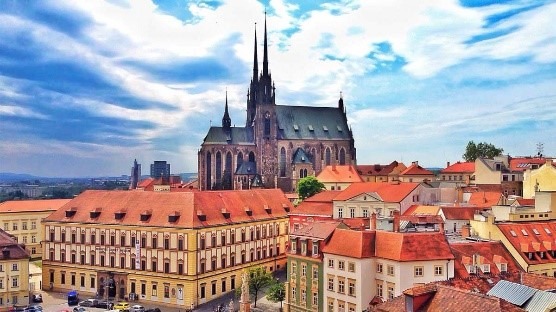 Two optional opportunities are offered to participants on the Annual IAEVG Conference 2019. We hope these opportunities will allow you to profit to the fullest from your visit in Central Europe. This optional first part of the programme of the Annual IAEVG Conference 2019 will be held in the beautiful city of Brno (CZ) on 9/10th September 2019.
Transfer between Brno and Bratislava (where the main programme will be held), will be assured by the organizers. You can select the option to attend the IAEVG Global Symposium and/or the study visit during the registration to the Conference.
Contact and inquiries: symposium@iaevgconference2019.sk
Study visits
Study visits in Brno will offer the opportunity to learn more about a context of career guidance and counselling in Central Europe. Participants will have chance to meet examples of best practice in the Czech Republic by visiting organisations awarded by the National Career Counselling Award, such as the university career centre connecting students and graduates with employers, regional provider of career guidance services or NGO focused on decent social participation of Roma people.
Attendees will be able to visit up to two organisations (from 8 in total) during the following time slots on September 9th, 2019 during the afternoon:
13:00 – 15:00
15:30 – 17:30
Guidance centre for anyone throughout the region regardless of age or personal situation, and most of our services are free of charge. They do career counselling and further education with students, adults, teachers and professionals. As a government organization their services are for free.
IQ Roma Servis belongs to the most prestige NGOs in the Czech Republic and to prominent experts on social integrating. Target group of their direct work are primary social excluded Romanies and Romanies in an unfavourable life situation. Except for others social services they do career counselling, employment consultancy and employment services.
Celsuz – social rehabilitation is set of social services that help socially disadvantaged people. Celsuz´s mission is to help clients live freely in their natural surroundings and in contact with other people. They focus on helping people in crisis, with mental illness or to support long – term unemployed people. Counsellors do individual counselling not just in the office but also at clients homes, psychiatric hospitals, anywhere else in the centre of Brno. They help the long-term unemployed to obtain and keep steady employment, to have better and dignified living conditions and achieve highest possible degree of independence, self-reliance and self-sufficiency.  We help people who: – don't have satisfactory financial income to cover all necessary living costs – have been currently registered with the Labour Department for more than 6 months and are in various difficult situations that they can't manage by themselves – are on disability or cannot return to work – have been punitively eliminated from the Labour Department registry – have been released from prison – have started community service – have ended maternal/paternal leave – graduated and are without training or experience in the labour market – looked after a family member long term
AGAPO is a non profit organisation that provides social rehabilitation services. Its mission is to support employment of people with various types of disabilities or social disadvantages. Based on the method of supported employment, AGAPO offers several programs for its clients. Individual counseling includes practicing the skills necessary to find and keep an employment, assistance in the individual search for a suitable job, employment-legal counseling, adjusting the work environment, working assistance in the workplace or assistance in solving any problems in the workplace.
As the only organization in the South Moravian Region AGAPO provides the Transition Program " from school to employment". Transition program helps students with special educational needs to facilitate the transition from school to employment. With the support of an assistant, young adults with special educational needs focus on gaining experience on the open labor market through individual practice and increase their chances of future employment.
Career Centre is an official recruitment – consulting agency of Masaryk University that connects employers with students and fresh graduates of Masaryk University. The Centre provides individual  counselling,  development trainings and events with employers in order to help its clients to enter a job market more easily. Since 2016, Centre is running a platform JobCheckIN – an official university career network that enables employers to find suitable employees and fresh graduates to start a successful career. Career Centre of Masaryk University was repeatedly awarded by the National Career Counselling Award (2012 – 2015 and 2017).
The Labour Office of the Czech Republic is the national body responsible for employment and social support with branches in all regions of the country. Informational Counselling Centres (IPS) are providing individual and group counselling for pupils, students and graduates as well as for general public regarding career choice and employment. The study visit will be also accompanied by EURES counselors – representatives of the European network facilitating international mobility of labour.
The Episcopal High School is offering counselling services to its students, parents and teachers. Career services provided mostly to the students in the 3rd year are focused on psychodiagnostics (personality tests, tests of interests) followed by the individual consultations. Moreover, students are participating in three-days programme focused on reflection of their goals, action planning and discovering their potential for further development. The training is also encouraging students self-esteem and openness to the various possibilities.
The elementary school Bakalovo nábřeží is focused on languages since 1966. Career guidance – e.g. informational meetings, consultations, cooperation with relevant organisations such as secondary schools or pedagogical-psychological centre – is provided for pupils and parents. Moreover, there is a mandatory school subject "Work activities" for the pupils of the 8th grade that is focused on financial literacy and career choice including the following topics: self-knowledge, career planning, learning and working possibilities, labour market information and related topics (CV, motivational letter, interview, etc.).
The centre provides career guidance, coaching, psychological measurement, psychological and psychotherapeutic counselling, study counselling, support and guidance for clients with specific needs. Our services are free of charge for students as well as for non/academic staff. We also take part in organising Career Days at Mendel University and, finally, we offer wide range of workshops and courses aimed at self-development of its participants such as Meditation, Stress and Time Management, Memory Training, Teamwork and Leadership, Designing a Vision Board, Emotional Intelligence, Cross-Cultural Communication.
Localisation of study visits in Brno (zoom in):
IAEVG Global Symposium (10th September 2019)

IAEVG Global Symposium will be part of the preliminary event in Brno before the IAEVG Conference in Bratislava and will be held on 10th September (Tuesday) in the morning (9h – 13h). The Symposium will focus on the role of guidance community in the development of national guidance systems: voices of counsellors and associations in career guidance systems development, dialogue between practitioners/associations and national guidance systems.
The discussion will focus on following topics:
How can career practitioners and their associations be involved in developing national guidance system?
What practices have been successful until now (e.g. National Guidance Forums, etc.)?
Is there a dialogue and mutual learning among counsellors/associations, policy makers and all other relevant stakeholders? What could be improved in the dialogue?
How can career practitioners/associations be engaged in implementation of career guidance policy initiatives?
What is changing in the role of career guidance, practitioners and their associations?
Are guidance practitioners and their associations involved enough into research of the field? Evidence, good practice, perspectives, barriers…
How we can support as much as possible inclusive and strongly democratic guidance policies and systems?
Free accommodation for Symposium participants will be provided from Monday, September 9, to Tuesday, September 10 in Hotel Continental, where the Symposium will be held. A common dinner will be organized on Monday evening. (For booking free accomodation we need confirm your interest through online sheet before August 8th). The IAEVG Global Symposium will be open for about 50 local and regional stakeholders from the Czech Republic, Slovakia, Poland, Hungary and other countries from the region of Central and Eastern Europe. In total the Symposium will be open for about 150 participants.
GETTING TO BRNO FROM VIENNA INTERNATIONAL AIRPORT
Brno is accessible by train from Vienna Airport (duration 2h, connection at Vienna main station, 14x/day from 6:30 to 21:30) or by bus connection (directly in front of the arrival terminal).
GETTING FROM BRNO TO THE MAIN EVENT IN BRATISLAVA
Transport for participants will be offered after the Symposium (on Tuesday afternoon). Travel distance between Brno and Bratislava (130 km) is about 2 hours.