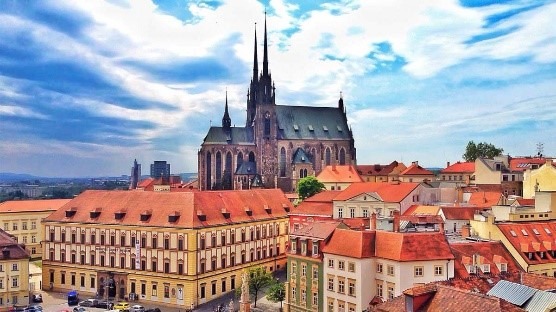 Two optional opportunities are offered to participants on the Annual IAEVG Conference 2019. We hope these opportunities will allow you to profit to the fullest from your visit in Central Europe. This optional first part of the programme of the Annual IAEVG Conference 2019 will be held in the beautiful city of Brno (CZ) on 9/10th September 2019.
Study visits
Study visits in Brno will offer the opportunity to learn more about a context of career guidance and counselling in Central Europe. Participants will have chance to meet examples of best practice in the Czech Republic by visiting organisations awarded by the National Career Counselling Award, such as the university career centre connecting students and graduates with employers, regional provider of career guidance services or NGO focused on decent social participation of Roma people.
Attendees will be able to visit up to two organisations (from 8 in total) during the following time slots on September 9th, 2019 during the afternoon:
13:00 – 15:00
15:30 – 17:30
IAEVG Global Symposium (10th September 2019)

IAEVG Global Symposium will be part of the preliminary event in Brno before the IAEVG Conference in Bratislava and will be held on 10th September (Tuesday) in the morning (9h – 13h). The Symposium will focus on the role of guidance community in the development of national guidance systems: voices of counsellors and associations in career guidance systems development, dialogue between practitioners/associations and national guidance systems.
The discussion will focus on following topics:
How can career practitioners and their associations be involved in developing national guidance system?
What practices have been successful until now (e.g. National Guidance Forums, etc.)?
Is there a dialogue and mutual learning among counsellors/associations, policy makers and all other relevant stakeholders? What could be improved in the dialogue?
How can career practitioners/associations be engaged in implementation of career guidance policy initiatives?
What is changing in the role of career guidance, practitioners and their associations?
Are guidance practitioners and their associations involved enough into research of the field? Evidence, good practice, perspectives, barriers…
How we can support as much as possible inclusive and strongly democratic guidance policies and systems?
Free accommodation for Symposium participants will be provided from Monday, September 9, to Tuesday, September 10. A common dinner will be organized on Monday evening. The IAEVG Global Symposium will be open for about 50 local and regional stakeholders from the Czech Republic, Slovakia, Poland, Hungary and other countries from the region of Central and Eastern Europe. In total the Symposium will be open for about 150 participants.
GETTING TO BRNO FROM VIENNA INTERNATIONAL AIRPORT
Brno is accessible by train from Vienna Airport (duration 2h, connection at Vienna main station, 14x/day from 6:30 to 21:30).
GETTING FROM BRNO TO THE MAIN EVENT IN BRATISLAVA
Transport for participants will be offered after the Symposium (on Tuesday afternoon). Travel distance between Brno and Bratislava (130 km) is about 2 hours.